Charles Dickens at Christmas virtual tour
26th December 2020 @ 11:00 am

-

12:30 pm

£7.50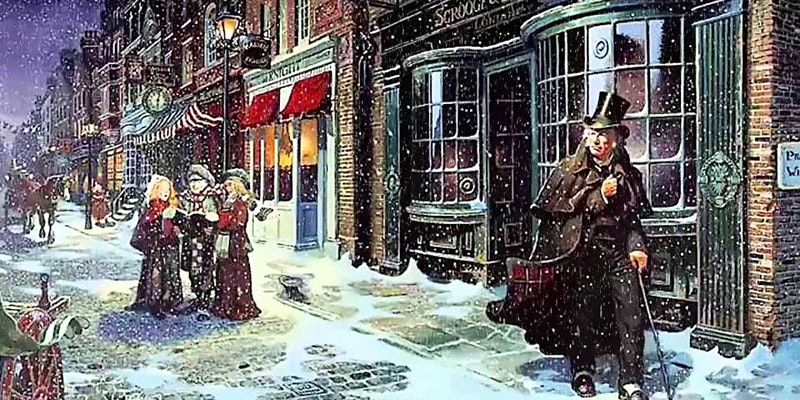 What it is
Zoom tour: Saturday 26 December 2020, 11am. Cost: £7.50.
Join leading London historian Ed Glinert, author of Penguin's Literary Guide to London, cruise ships speaker and one of the most prolific tour guides in the country, on this original festive Zoom tour-talk around the great author's London haunts.
Ed Glinert writes: "I have devised this tour so that the public can share my enthusiasm for London's greatest author, whose works I constantly read and whose sojourns around the capital I have detailed in various books, such as Penguin's Literary Guide to London and Penguin's London Compendium.
I am now running New London Walks to offer residents of and visitors to the world's greatest city new and exciting insights into its remarkable history. In view of the current restrictions, I have devised this Zoom version of the walking tour we did last Boxing Day in which we explore Charles Dickens's dillies and dallies around Bloomsbury, Covent Garden and Strand, starting at the site of the abominable Blacking Factory by the Thames where he worked as a child and ending at his Doughty Street repos, now the Dickens Museum. This format means we can cover so much more ground than possible on a normal walking tour…the schlep to Doughty Street would defeat even Sydney Carton wandering, stalking, drifting or creeping through the streets!
Where we go
Lincoln's Inn Hall, where the Lord High Chancellor sites at the very heart of the fog.
The Old Curiosity Shop on Portsmouth Street, near Lincoln's Inn Fields.
Warren's Blacking Factory on Hungerford Stairs, "a crazy, tumble-down old house, abutting the river, literally overrun with rats" (okay, it's gone now), where in 1823 Dickens, aged 12, earned the princely sum of six shillings a week pasting labels on jars of shoe polish.
The Gin shops of Drury Lane as featured in Sketches By Boz.
Bow Street magistrates' Court where the Artful Dodger demanded his "priwileges".
48 Doughty Street, Bloomsbury where Dickens lived and completed Oliver Twist, and wrote Nicholas Nickleby, and which is now the Charles Dickens Museum.
…and much much more
And why
Dickens IS Christmas.
Without London's greatest author we would have no ghosts of Christmas past, no Christmas presents, no Christmas cards, no Christmas tree. Oh, all right, we might have had some of those, but we definitely wouldn't have had this tasty Turkey-time morsel from A Christmas Carol.
"No fog, no mist; clear, bright jovial, stirring, cold; cold, piping for the blood to dance to; Golden sunlight; Heavenly sky; sweet fresh air; merry bells. Oh, glorious! Glorious!"
Ed Glinert, author of Penguin's Literary Guide to London, leaves Scrooge to freeze with his humbug to lead this festive tour around Charles Dickens's central London haunts, from Lincoln's Inn (where at the very heart of the fog, sits the Lord High Chancellor) to Covent Garden and beyond.
How do I book?
This tour is available to book through Eventbrite